Established in 2000, Betfair has developed into one of the most profitable and distinguished Web gambling brands. Based in London, Betfair's online services include a sportsbook, betting exchange, casino, live casino, and poker room. At last count, Betfair Sports had upwards of four million clients. The agency has earned a reputation for integrity and impartiality, and its software is stable and safe.
Click here to receive up to £100 from Betfair!
Betfair Sports Free Bet
The Betfair Sportsbook and Betting Exchange are always providing excellent incentives for new players. However, these are two distinct services, so there are actually two different welcome bonuses provided. You can receive as much as £100 in free bets from the Betfair Sportsbook or a £20 free bet and up to £1000 cash back from the Betfair Exchange.
Betfair Sports offers a simple yet excellent welcome promotion. All you have to do is open a new account and place five £10 wagers. After they settle, you'll be credited with a £20 free bet. Repeat this process up to four times for a total of £100 to bet on sports for free!
To get started, click here to visit Betfair. Then register your new account and enter the Betfair promo code ZBBC01 as shown below:
The promo code ZBBC01 or another promo code may automatically default into the registration form, which is ok, as long as you clicked one of the links above.
Bet £50, Get £20 Rules
There are a few terms associated with the ZBBC01 promotion, and we urge you to familiarize yourself with them so that you don't do anything foolish.
In order to qualify, you must be a resident of the United Kingdom or Ireland, and you must be a new Betfair customer. You have to make your first deposit via some channel other than Moneybookers or Neteller.
Each of your five qualifying £10 wagers must have odds of 1/2 (1.5) or higher. You cannot cash out these bets, and if any of them are voided, they will not count as qualifying bets. You can't make multiple wagers on the same market or selection.
After you fulfill the conditions to get a £20 free bet, it will be placed into your account within 24 hours. Free bets expire 30 days after award.
You have 30 days to place all your wagers for this promotion and attempt to score as many £20 free bets as possible (up to a maximum of five). Only wagers that settle within this time period will count for the purposes of the ZBBC01 promo code.
Sorry, the Betfair Exchange £20 Free Bet and £1,000 Cashback offer has expired. We've left information about this offer here for archival purposes, but we advise you to take advantage of the £30 free bets deal described above instead.
Betfair Exchange – £20 Free Bet + £1000 Cashback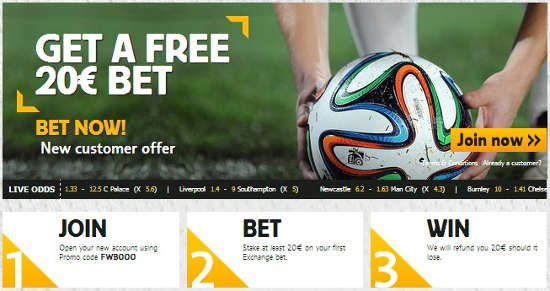 To receive the £20 free bet and £1000 cash back from the Betfair Exchange, click here.
Once the sign up process is finished, make your initial deposit and then make your 1st wager.
Betfair Exchange £20 Free Bet and Cash Back
If you signed up for the Betfair Exchange free bet, then just place your first wager for up to £20, and if you lose, Betfair Sports will refund your bet!
Utilizing the introductory free wager also provides entry to a month-long cash-back bonus. For 30 days, after the moment you register the account, Betfair gives cash back on every bet made. How it works is that the sportsbook gives one Betfair Point for each 10p bet, and then the bettor will gain money based on the total points accumulated. Obtaining at least 100 points will give the player a £10 bonus, and collecting 50,000 points or more will award the player the maximum bonus of £1,000.
Besides the introductory complimentary wager and cash back, Betfair.com offers numerous opportunities for complimentary bets throughout the year through its promotional list. These bonuses are usually seasonal and available for a wide range of stakes, including horse racing, football, and even the Olympics. To see actual offers, enter the Betfair website. On the menu, go to Sports, and then on the sub-menu, click Offers.
The Betfair Betting Exchange
Betfair Sports and the Betfair Exchange are two completely different products that are accessible by way of a central interface. A betting exchange connects customers who set their own odds with customers looking for those bets.
The Betfair sports exchange is much like a marketplace of buying and selling betting odds.
A conventional sportsbook provides odds for a given bet, and then the customers have the choice to accept those odds and place that bet or just skip it. With a betting exchange, there is the flexibility to characterize your own odds. There is no assurance it will be accepted, but at least the chance for the bet is there.
The most important difference between Betfair Sports and other online sportsbooks is the number of options available. Typically, serious online sports bettors spread their business to several books in order to get the odds that they are looking for. The Betfair customer can deal solely with Betfair. If the sportsbook does not have the bet they want, it's like to be found in the Betfair Exchange!
How to Use Betfair Betting Exchange
Within the betting exchange, you can place a wager on an event just like any other sportsbook. Betfair also gives you the additional option to trade wagers. Betfair.com Sports supports the full spectrum of sports and bet types, and any wager available via the sportsbook is additionally accessible by way of the betting exchange.
To place a bet, simply open a betting ticket, determine the particulars, hit OK and then verify. Betting tickets also give the client the freedom to define your own bet, which can be picked up by a bookie or another customer. New clients can use the odds recorded at other sportsbooks for assistance. Placing unreasonable odds is useless as it is unlikely the bet will be picked up.
Click here to visit Betfair Sports!
Leave a Review!
Please share your thoughts below!
Betfair Promo Code
Average rating:
0 reviews